Enclosing your outdoor living area opens up your home and lifestyle by providing a beautiful outdoor patio you will want to enjoy, entertain and spend time in.
No more coming home to a messy outdoor area, having to clean the leaves and bird droppings up before you sit outside and enjoy our great climate.
Imagine a barbecue with no flies. Imagine an evening outside with no mosquitoes or midges. Wouldn't it be nice?!
Suncoast Outdoor Living modern enclosures or screened rooms create a seamless transition from indoor living to outside entertaining whilst still maintaining the breeze and views.
Sunrooms, patio enclosures, screen rooms and alfesco enclosures not only increase your home's value, but expand your living areas and lifestyles. If you have a nice place to entertain and invite friends to share, you'll be more likely to do so.
Talk to us about creating your own personal outdoor sanctuary in Brisbane, Gold Coast, Sunshine Coast and surrounds. Here are some things to consider when designing a patio.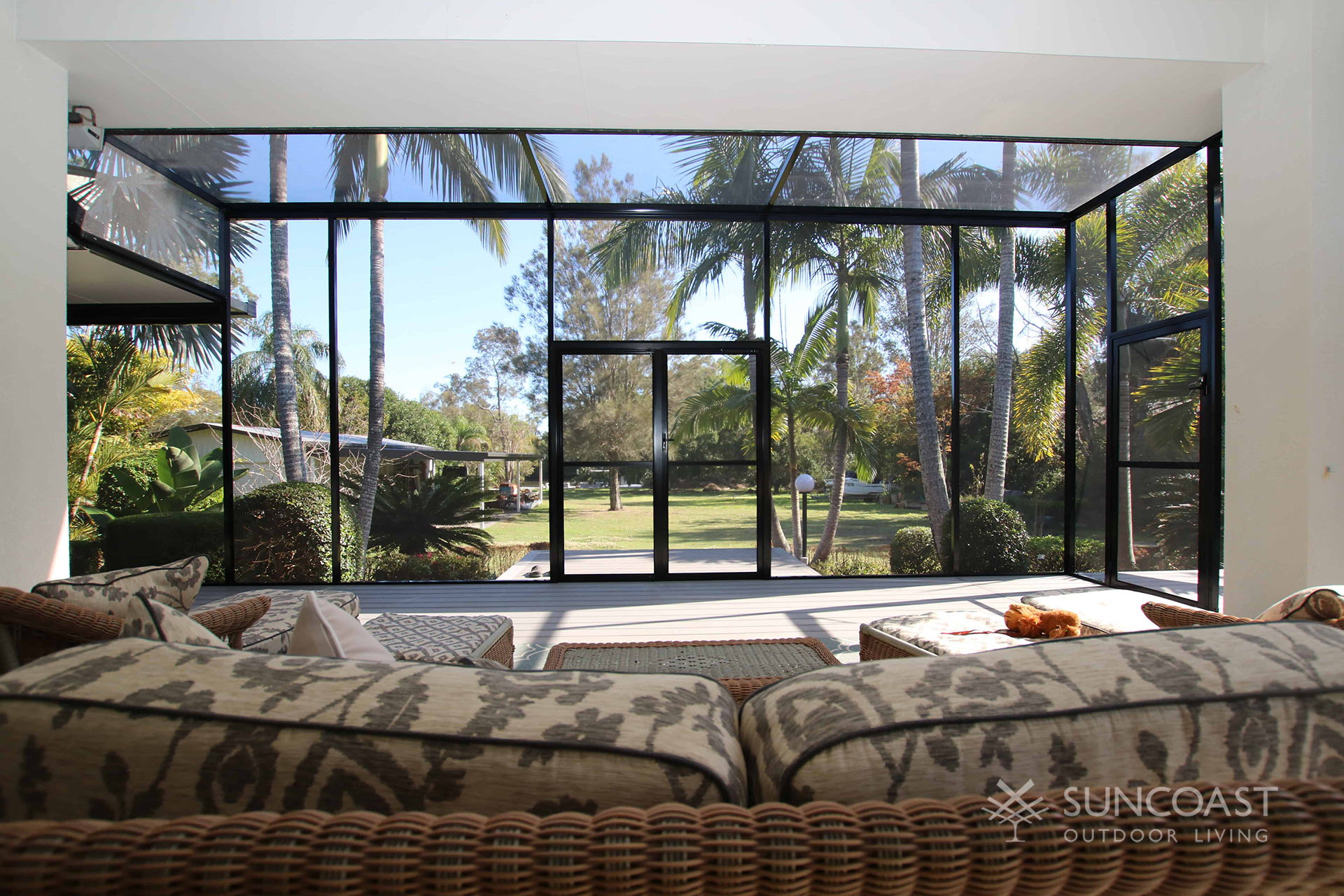 Benefits Of A Screened Enclosure For Your Outdoor Area
More usable enclosed patio entertaining area
Protection from flies, midges, mozzies, birds, cane toads, snakes and other unwanted pests.
Elimination of leaves and airborne debris.
Maintains your views or creates privacy.
Maintains and helps control air flow.
Screened enclosures keep pets from wandering or protects them from unwanted visitors.
Custom made self-closing swing or sliding doors and pet doors
Minimal maintenance with quality fixings
Seamless living with no need to screen – Bi-Fold or sliding doors on house.
Cost effective extension to your living areas.
Suncoast Outdoor Livings Aluminium Frame Screen System
Some of the most common concerns that we hear when enclosing an outdoor area in screen is that you will feel closed in, lose your views, eliminate the breeze and that the screens will go loose and saggy over a period of time.
We get it – but that is only a worry if using a traditional framing system designed for house windows and using a cheap screen which will last only a couple of years with UV exposure. Or if using the wrong density of screen for your requirement.
Aluminium Frame
The Suncoast Outdoor Living Aluminium Frame System uses a flat elongated rubber spline.
Unlike the traditional round rubber spline which goes into a square hole, the Suncoast Outdoor Living spline system completely wraps around the screen locking it into place, never going loose or saggy.
7 Different Enclosure Screening Options
We have a total of seven different screens from 25% shade to 90% shade which are all manufactured by Phifer Screens USA, the world's leading screen manufacturer.
Two of our screens are compliant to AS1926 and can be used as pool fencing and a further screen is balustrade compliant to the first story.
Your enclosure is designed to your needs and requirements and will look great for years to come.
Our Screening System
Our screening system and custom made doors are totally manufactured on-site, giving a much cleaner finish with the aluminium frame powder-coated to your choice of colour and one or a combination of screens to suit your requirements.
We can combine the screens with other products if you would like a solid wall and customised pet access.
Further Information
For more information about what a Suncoast Outdoor Living Patio and Alfresco Enclosure can do for you call the team on 1300 137 081 to discuss further.
You can also get in contact on [email protected] for any enquiries.